Tributes to Paris at choir Annual Concert
Rhos Male Voice Choir dedicated part of their annual concert last weekend to the tragic events unfolding in Paris. The choir sang an arrangement of John Rutter's "God be in my head and in my understanding" – based on a traditional Gaelic blessing - for those who had been killed or injured.
As audience of almost 500 at the William Aston Hall in Wrexham enjoyed a wide range of music during the concert, which also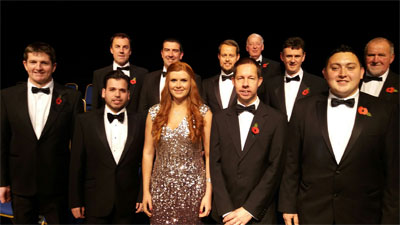 Members of Rhos Male Voice choir with soloists Luis Gomes (2nd from L), Meinir Wyn Roberts (centre) and acting musical director Kevin Whitley (2nd from R)
featured Rhos Boys Choir, and soloists Luis Gomes and Meinir Wyn Roberts.
Choir president David Ethelston said:
"This was a fantastic concert and we should pay tribute to acting musical director – and former accompanist – Kevin Whitley who in just a few short weeks has managed to put together such an entertaining programme."
Part of the programme included arrangements by two former choir stalwarts – John Tudor Davies and Emyr James, and Mr Ethelston said these pieces in particular had been enjoyed by their family and friends.
Among the other guests was Clwyd South MP Susan Elan Jones who said said it was a wonderful musical evening.
After the concert several long-standing members of the choir were honoured for what chairman Alun Roberts said was a lifetime of service to the choir.
Five members – with almost 300 years service between them – were made honorary life vice-presidents, including Gordon Williams from Rhos – who has been singing with the choir for 69 years and this year sang on stage at the annual concert with two new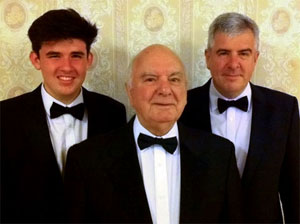 Gordon Williams – 69 years a member of Rhos Male Voice Choir – with son Kevin and grandson Gruffydd.
recruits to the choir – his son Kevin and grandson Gruffydd.
Also honoured were Harold Richards, Colin Aubrey, Glyn Jones and Dennis Mills, who have all been members of the choir for more than 50 years.
Mr Roberts said:
"It is only fitting that we should honour these people for what has been a lifetime of service to the choir."
Copies of the choir's Christmas CD "Noe! Noe!" were also on sale at the concert. CDs can be bought from members of the choir, from Siop Y Siswrn in Wrexham and it is also available to download from i-tunes.