Rhos Male Voice Choir is from the village of Rhosllannerchrugog (Rhos), some five miles south-west of Wrexham, North Wales. Formed in 1891 the choir has, since then, been in the forefront of male voice singing. It is widely recognised as being one of Wales' foremost choirs and its record in the competitive field is second to none.
"It was once said that if blood could sing, it would have to be out of someone from Rhos."
Ever since Richard Mills formed Rhos Male Voice Choir in 1891 it has given pleasure to countless thousands who have heard the unique sound of the choir. Its recordings have reached a wide audience the world over and, coupled with many overseas tours, the choir's name has become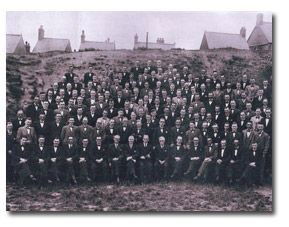 synonymous with male voice choir singing of standing. Rhos has a population of about 9,000 people and singing has always played an important part in village life. The village has three male voice choirs, two mixed choirs, a ladies choir and each of its schools has a choir - singing to the people of Rhos is most important. It was once said that if blood could sing, it would have to be out of someone from Rhos. Over the years the choir has undertaken many overseas tours taking their music to countries such as America, Canada, France, Germany, Italy, Spain and Switzerland. They have performed at many well-known venues, namely the Chicago Opera House, the Liederhalle in Stuttgart, Birmingham Town Hall, the Philharmonic Hall, Liverpool and London's Royal Albert Hall to name but a few. In the competitive field, Rhos Male Voice Choir has achieved first prize at the National Eisteddfod of Wales many times, won at the Llangollen International Musical Eisteddfod several times, twice won the BBC Radio Choir of the Year competition, been successful in the HTV Festival of Welsh Choral Music and won the Gold Award for the best choir at the Glarner Music Festival in Switzerland where they defeated 112 other choirs. The choir won the inaugural Melody Music Golden Nightingale Male Choir Competition at the Bournemouth International Centre. They received a cheque for £3,500, a cup and the specially commissioned "Golden Nightingale" statue.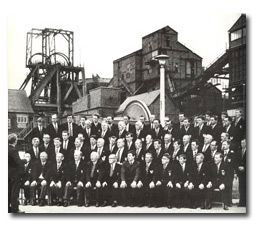 Rhos Male Voice Choir has appeared before Royalty on many occasions and has taken part in a Royal Command Performance. Rhos Male Voice Choir is heard frequently on Classic FM and were featured in a recording released by the radio station not so long ago. Television appearances have been many and the choir has performed with artistes such as Bryn Terfel, Katherine Jenkins and Gwyn Hughes Jones. In addition they have sung with the Royal Liverpool Philharmonic Orchestra, the Baerum Symphony Orchestra from Norway and with most of Britain's top Brass Bands. They have also released many recordings of their own and were also featured on a disc to publicise the 1999 Rugby World Cup which was distributed to 240 radio stations worldwide. From the comments choir officials and members receive following concerts it is evident that the choir has a warm place in the hearts of music lovers over a very wide area - both in Britain and abroad. The aim is the same whether it be in a small village chapel or hall or in a prestigious concert venue and that aim is to give enjoyment to the countless numbers who come to hear them and also to those who listen on radio, television or through recordings. Many comment on the choir's large repertoire which includes hymn tunes, songs from the shows and operatic pieces, in fact music from a very wide spectrum.
Musical Director: James Llewelyn Jones B Mus (Hons). M Mus.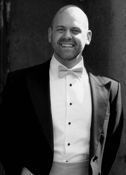 James' passion for choral music was enriched at a young age singing in both The Four Counties Youth Choir and The Sirenian Singers, Wrexham. He was also a member of the National Youth Choir's of both Wales and Great Britain, he was a founder member of the National Chamber Choir. His musical education continued in Birmingham where he gained his B Mus (Hons) and MMus degrees with distinction.James conducted the National Children's Choir of Great Britain for 11 years, where his initiatives saw the formation of the National Children's Training Choir and also Dulce Corum (the National Girls' Chamber Choir of Great Britain).He has conducted some of the world's leading childrens' choirs including the European Union Children's Chorus, Hungary; the Canzonetta Children's Choirs of Manchester – formally the Manchester Boys' Choir; the Glen Ellyn Children's Chorus, Chicago and has undertaken several invitations from the Toronto Children's Chorus - firmly regarded as the foremost children's ensemble.In 2006, James succeeded D. Clive Griffiths M.B.E as Director of Côr Meibion Canoldir, Birmingham. Under his direction the choir have achieved an outstanding record of success in the competitive arena. Two 1st prizes at the Jersey International Choral Festival, including the jury's award for best musical interpretation, when Sir David Willcocks said of Canoldir, "This is how Male Voice Choirs should, but rarely do sound." Three 1st prizes followed in 2011, at Europe's largest male choral festival in Cornwall. James was commended by the international jury for his innovative competitive programming and the choir's unique style and consistently high, technically assured performance. In November 2014 Canoldir triumphed again winning the North Wales Choral Festival in Llandudno.James has toured extensively throughout Europe and to America, Australia, Canada and New Zealand. Notable performances in the Cathedrals of Barcelona; Notre Dame, Paris; St. Mary's, Sydney; St. Stephen's, Brisbane and St. Mark's Basilica, Venice.
He is in demand as a choral clinician and workshop leader. At the invitation of International Choral Federations he has undertaken workshops in Sydney, Canberra, Brisbane, Auckland and in Vancouver, Toronto and Chicago following a successful visit in 2008 when he conducted a massed symposium of over 400 children for the Glen Ellyn Children's Choirs, Chicago.
James has also had the honour of being a guest conductor with the City of Birmingham Symphony Youth Chorus, and under his direction the Senior Choirs and Chamber Choir from Edgbaston High School for Girls' performed to great acclaim and appeared as Guest Artistes for Hayley Westenra's 'Christmas Wishes Concert' at Symphony Hall.
He is the Musical Director of The Midlands Hospitals' Choir and The Phoenix Singers, Bournville.
James is delighted to be immersing himself, once again, in the rich choral traditions of the area. He is thoroughly enjoying working with the choir and getting to know all the singers and he is most grateful to the chaps and their families for the warm welcome they have given him.
Accompanist and Assistant Musical Director: Kevin Whitley B.Mus (Hons) ALCM MBA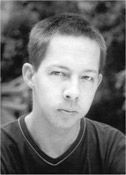 Born in Wrexham, organist and pianist, Kevin was appointed choir accompanist in 1995 and is also deputy Musical Director. Kevin was appointed Acting Musical Director 2015 before being appointed to Musical Director of Flint Male Voice Choir in April 2016.Kevin is also accompanist of Choral Variations, a mixed choir from Llangollen. Kevin graduated with Honours in Music from the University of Wales, Cardiff in 1995. While studying there he accompanied the University Choir for two consecutive years. He studied organ with Roger Fisher and has played the organ at St David's Hall in Cardiff for Mahler's Symphony No 8. He also has been guest organist at St Collen's Church, Llangollen and St Giles Church, Wrexham, for works including Stainer's Crucifixion, The Last Supper and Handel's Messiah, and is currently organist at St James Church, Rhosddu, Wrexham and St. Mary's, Ruabon. He has achieved an Advanced Certificate in piano performance and a ALCM Diploma.Kevin has undertaken a vast array of TV and Radio performances, appearing on S4C, ITV and BBC television and radio including several live broadcasts. He has produced a CD of songs from the shows and ballads entitled 'Fingers in the Sky.'Kevin is in great demand as an accompanist and has worked with some top artists including Katherine Jenkins, Luis Gomes, Meinir Wyn Roberts, Willard Wight, Bryn Terfel and the late Harry Secombe (to name but a few).
Associate Accompanists:
Mrs Heather Howell
Mr Christopher Enston