Singing with Coldplay
A choir conductor from North Wales looking forward to seeing one of his favourite bands was stunned to find himself joining them on stage to sing the national anthem in front of thousands of fans.
James Jones, conductor of Wrexham's Rhos Male Voice Choir, was excited enough to be going to the Coldplay concert in Cardiff, but then got the amazing request to sing Hen Wlad Fy Nhadau alongside them. "We have tried numerous times to get tickets to see Coldplay, but they are like gold dust, so we were just pleased to get them," said the 39-year-old, who travelled to the Principality Stadium with sister Rene, brother-in-law Mark and nieces Lara and Keely. "We were preparing to set off when the choir secretary Geraint Phillips contacted me to say it wasn't a joke but they wanted somebody from the choir to perform the national anthem on stage, and Geraint knew I was going. Then I was contacted directly and I agreed to do it. There are hundreds of choirs around Cardiff, but Chris Martin turned out to be a big fan of our choir and wanted one of us to do it, which was a great feeling."
James Jones, Coldplay's Chris Martin and Elin Hughes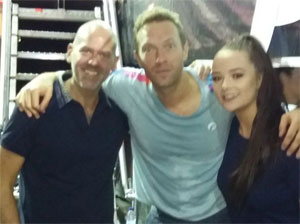 Ahead of Tuesday night's concert, Mr Jones practiced at the stadium with 19-year-old Elin Hughes of Trinity University College in Carmarthen, and the two of them later joined Coldplay for the surprise rendition of the anthem. The following day, he was asked to do it again alongside actor Rob Brydon. "It was an amazing experience, really magical," said Mr Jones, who was brought up in Llanymynech and lived in Broughton, but now lives in Birmingham.
James Jones on stage with Coldplay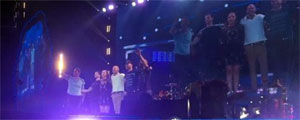 "If I had been asked to do it a few days before, I think I would have been nervous. But, because it was on the day, I didn't really have time to think about it. It was surreal." Mr Jones and his family were given VIP treatment and invited to the after-concert party. "The band members made us feel really welcome," he said. "They were very down-to-earth with no pretensions at all."
(Taken from http://www.dailypost.co.uk/news/coldplay-cardiff-principality-stadium-wrexham-13335239)